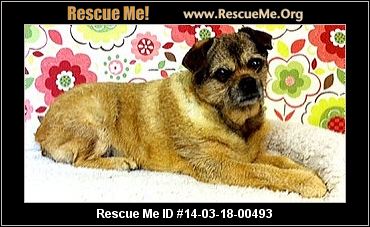 Animal ID: 2832
GRIFFY:
(female)
Brussels Griffon    Age: Senior


| | |
| --- | --- |
| Compatibility: |  Good with Most Dogs, Good with Adults (Not Kids)  |
| Personality: |  Average Energy, Average Temperament  |
| Health: |  Spayed, Vaccinations Current  |
    Griffy in Sacramento, California is one happy little lady! Her owners surrendered her to a Sacramento-area shelter because they were no longer able to care for her. We are not sure of her age, but from the vet's feedback and observing her she is somewhere around 8 to 10. We are betting 8 because her eyes are clear and her teeth are in good condition. When Griffy came to rescue she weighed over 30 pounds, but her weight is down to normal, thanks to a great diet and exercise regimen put in place by her foster mom. She is happy, housebroken, and now able to play. Griffy is a very good girl. She enjoys tummy rubs and has great inside ... (Read More)manners. Even though she is an older gal, she is very lively and energetic. She loves running around in the grass, and her tail is always wagging. When she is excited, her tail wagging makes her entire body wiggle! She is looking for a home where she can get a lot of attention and can go on walks so she can keep her girlish figure. She loves just about everyone, and is good with other dogs. She is happy in her current home, but we believe she would love to be in a home that would love and care for her for the rest of her life. Griffy deserves that home. Griffy is spayed and heartworm negative. She is up to date on her vaccinations, and will be microchipped before being placed in her new home. Go to her link on our website to see a cute video of Griffy! Keep in mind that we prefer to place dogs within driving distance of where they are being fostered. If someone from outside the local area is approved for adoption, they must be willing to fly in to get the dog and that can only happen if the dog is stable enough to travel in the cabin with the passenger. (Less)

Animal Location:
National Brussels Griffon Rescue, Inc.
Sacramento County
Sacramento, CA 94203
MAP IT!
| | |
| --- | --- |
| Contact: | |